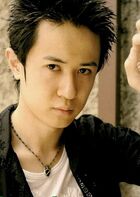 Tomokazu Sugita
(杉田 智和 Sugita Tomokazu) is a Japanese voice actor employed by Atomic Monkey. Best known for his role as Gintoki in Gintama, he also voices Kyon in
The Melancholy of Haruhi Suzumiya
and
Ragna the Bloodedge
in
BlazBlue
. He is also one of the three hosts on the radio show
Bururaji
(BlueRadio)
promoting the videogame Blazblue which is produced and released on Nico Nico Douga.
He plays the male lead, Yuichi Aizawa in Kanon. At the 33rd Anime Grand Prix, his voice character Gintoki Sakata won the most favorite male character which means Sugita's character roles consecutively won the most favorite male character in 2009 and 2010 Anime Grand Prix. Uniquely, those characters are from different anime: Kyon from The Melancholy of Haruhi Suzumiya (2009) and Gintoki Sakata from Gintama (2010). Sugita and Nakamura also work together in the BlazBlue series as the protagonist Ragna and antagonist Hazama respectively. Also, Nakamura voiced Sugita's counterpart character in Gintama, Kintoki.
In 2010, he was part of a live-action film, Wonderful World, along with fellow voice actors, Mamoru Miyano, Tomokazu Seki, Rikiya Koyama, Yuka Hirata, Showtaro Morikubo and Daisuke Namikawa.
Sugita won for "Best Supporting Actor" in the Third Seiyu Awards.
Filmography
Edit
Bleach (2004)- Nova, Kensei Muguruma
Bobobo-bo Bo-bobo (2003)- Over
Galaxy Angel II (2006)- Soldum Seldor
InuYasha (2003-2005)- Renkotsu
Kamen Rider Decade (2009)- Kivat-bat the 3rd, Kivat-Bat the 2nd
Kamen Rider Kiva (2008)- Kivat-bat the 3rd, Kivat-Bat the 2nd, Kiva-Bat the 4th
Kamen Rider Kiva: King of the Castle in the Demon World (2008)- Kivat-bat the 3rd
Magical Girl Lyrical Nanoha Strikers (2007)- Chrono Harlaown
Mobile Suit Gundam SEED Destiny (2004)- Youlan Kent
The Disappearance of Haruhi Suzumiya (2010)- Kyon
The Melancholy of Haruhi Suzumiya (2006-2009)- Kyon
ThunderCats (2011)- The Driller (Japanese voice-over)
Video Games
Edit
BlazBlue: Calamity Trigger (2008-2009)- Ragna the Bloodedge
BlazBlue: Chrono Phantasma (2012-2014)- Ragna the Bloodedge
BlazBlue: Continuum Shift (2009-2012)- Ragna the Bloodedge, Bang's Subordinate B
Final Fantasy Type-0 (2011)- King
Fire Emblem: Awakening (2012-2013)- Chrom
Guilty Gear 2: Overture (2007)- That Man
Guilty Gear XX: Accent Core Plus (2006)- That Man, Milia's Fan
Jojo's Bizarre Adventure (2012-2013)- Joseph Joestar
Jojo's Bizarre Adventure: All-Star Battle (2013)- Joseph Joestar
Metal Gear Solid: Ground Zeroes (2013)- Kazuhira "Kaz" Miller
Metal Gear Solid: Peace Walker (2010)- Kazuhira "Kaz" Miller